Last winter I took a trip to Hawaii – not exactly the most cash-friendly place, but there are a few things you can do to avoid the tourist traps and still have an incredible trip. Here are seven tips on how to save money on your next trip:
Bring your breakfast. Items like oatmeal, cereal, or granola bars are easy to bring with you and can save you on a meal.
Drink your greens. Eating healthy can be expensive but you also don't need to be living off the value menu at McDonald's. Instead of paying $20 for a salad, grab a green juice. I'm a green juice advocate and that's how I get my nutrients in since I find it pretty impossible to get my daily fruits/veggies intake. This way I don't feel guilty for not having my greens at mealtime. Let's say it's around $10 for a bottle of juice – you can get those at the supermarkets (make sure it's pressed juice with no added preservatives, sugar or that concentrate shit) and it's still better than eating a $20 salad. One juice a day, and you're good!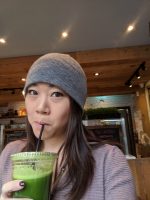 Bring cash so you're not tempted and get used to pulling out your credit card. Save on the foreign exchange rate that credit cards charge.
Go to 7-Eleven. When I was in Hawaii, their 7-Eleven had bombass food, and for dirt cheap! Don't underestimate these stores when you're away because you can really get good value there. When I was I Japan, the convenient stores had amazing sushi for really great prices – and the quality was better than A LOT of the Japanese restaurants at home!
Ask locals where they eat, and not just "recommendations". Ask your Uber/ Lyft driver the last place they went to. They know what's up. When I was in Hawaii, I went to this place where it was purely locals, family-owned, and they had the freshest and tastiest poke bowls, and it was wayyy cheaper than the restaurants.
Buy alcohol at the Duty-free and drink at your place.
Go on Groupon to find local deals on restaurants, excursions, and activities. I got a great deal for surfing – and an event better deal when I phoned the person when asking for details about the package. They give 50% of their cut to Groupon so always call beforehand and see if you can get an even better deal.