I recently came back from a trip to Houston, staying at my cousin's rental apartment for five days.  I was amazed at what she got as a renter, in return for what she was paying for. For US$1,400 + utilities:
+950 sq. ft. includes parking for two cars
Valet garbage (it's a thing there – put your garbage right outside your unit door between 7pm – 9pm, and somebody will remove it for you! It's a daily service.
Dry-cleaning service (pay extra) – drop your clothes off in a box in the building, your clothes will be ready in one of the lockers.
(My first thought- I'm moving to Houston!) Compared to Houston, Toronto renters are treated like cockroaches.
From bidding wars on leases, people renting out their dens/couches/balconies/, to landlords refusing to fix infestation problems (Toronto is ranked # 1 for bedbugs, congratulations!), people in this city are living like refugees!
Stop the madness! The more people accept this, the more it becomes a standard -do we really want this to be our new standard of living?
Check out my cousin's rental building – where renters are treated like gold.

Legit pool with BBQ area equipped with sink and TVs.

Technology and security. FOB entry EVERYWHERE.

Business centre with free WiFi, use of computers, and printer.
Very similar to those co-working spaces we pay about $200/ month for.
All included.

What kind of business centre would it be without complimentary coffee/ tea?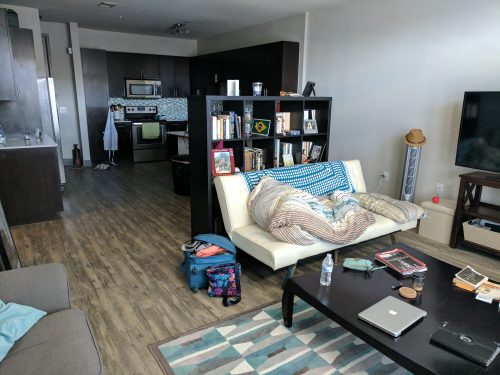 Space. Lots of it. There are so many kitchen cupboards, that she uses one of them to store shoes!

Enormous washroom with two sinks. A bit excessive but, everything is bigger in Texas.
Unfortunately, I didn't snap a photo of her bedroom – it was embarrassingly messy. It fits a king size bed and a desk though. It also has a walk-in closet.
And of course, the sweetest cousin!
…and rental prices are under pressure as more rental buildings are popping up. I even saw one building provide valet parking for its residents! Slightly more luxurious, but by no means is it completely out of reach. It certainly wasn't the Ritz-Carlton catering to the 1%.
There you have it folks. Standards.  What are you willing to accept?